The original ranch headquarters is located next to Diamond Bar Springs that has been known to Native Americans for 3,600 years.
The oldest inhabitants at the springs were the Cohina Indians whose roasting pits have been carbon dated back to circa 1600 B.C. In 1871 the Wheeler expedition first surveyed the springs during their exploration of the Grand Canyon. The Indians called the springs, Tanyaka Springs or Grass Springs.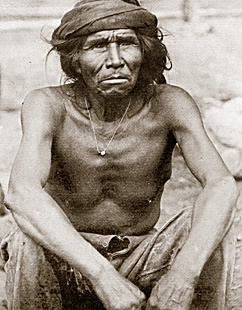 Ghost Dances at Diamond Bar Ranch.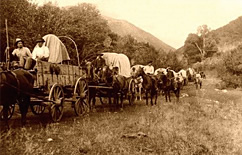 Mormons used the springs as a resting and watering place.

Around 1860, after the Hualapai War, gold miners built a Stamp Mill to crush ore for the King Tut Gold Mine. They named the springs Guffan Springs. From the 1870's onwards the Mormons used the springs as a resting and watering place for wagon trains which used Diamond Bar Road. In May of 1889 the Hualapai Indian Tribe's first Ghost Dance ritual was held at these Springs. All participants were dressed in white and danced for five days and nights.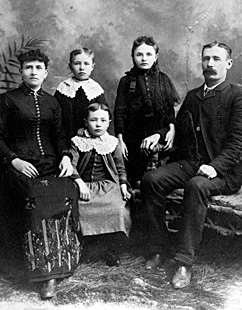 Wellington Starky and family.

In the late 1800's Wellington Starky started a cattle ranch and called it Diamond Bar Ranch. In 1904 at the age of 41 a notorious gunfighter and cattle rancher called Tap Duncan bought the ranch to escape from his previous... "profession." It is believed Tap rode with Kid Curry and the hole in the wall gang.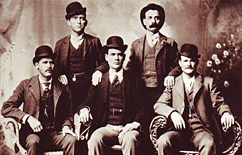 The Hole In The Wall Gang.
Tap Duncan became one of the most well-known and widely respected pioneer cattlemen running over 2,000 head of cattle on over a million acres. His other ventures included involvement in the aforementioned King Tut Gold Mine. He was eventually killed at the ripe age of age of 74, ironically, run over by a car in Kingman, Arizona.
From 1915 onwards an unknown cowboy called Bruce Kiskaddon worked for Tap. He wrote about the ranch and in doing so started cowboy poetry. In 1915 cowboy poets were not popular but he was encouraged by Tap. The Los Angeles Times published his works for 30 years. "Rhymes and Ranches" published in 1947 is about Tap and Diamond Bar Ranch. Bruce became one of the most famous Cowboy Poets. Tap Duncan, A True American Legend George Taplan Duncan, better known as "Tap" Duncan to his friends in Kingman and Mojave County, was born in San Saba, Texas, February 4, 1869. And like most Texans of those days, he was at home in the saddle when he was still quite young.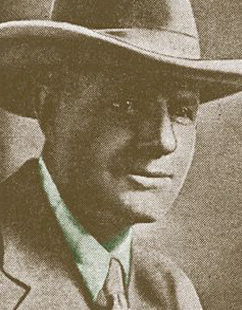 George Taplan "Tap" Duncan.

When he was only 16 years old, Tap left the state of Texas with a trail herd into New Mexico. But he was soon back in his home state where he spent the next few years cowboying for various outfits. In 1891, at the age of 22, he married Ollie Ann Bimmon of Uvalde, Texas. The following year, he and his family moved to Idaho where he became wagon boss for the Sparks and Harold Shoe Sole outfit. When he took that job, he related in later years, all he possessed was a wife, a baby and twenty dollars. But he capitalized on his opportunity and soon built up a brand of his own. The cold Idaho winters weren't to his liking though, so he sold out in 1898 and headed with his wife and four children for sunny Arizona. On that trip, Ollie drove the wagon and Tap herded a bunch of saddle horses. Arriving at Bonelli's Ferry on the Colorado, Tap had misgivings about his move. The passage appeared so dangerous that he feared his wife and children might drown. He blamed himself for taking the route and ruefully remarked to his wife, "I guess the only reason a cowpuncher has a head is to keep his spine from unravelling." However, Tap used his head to good advantage, and the crossing was made safely. Not long afterwards, they arrived in Hackberry where he bought the "Hookedy II" brand and Jack Harden's ranch on Knight Creek. By 1910 he had built up his ranch to a point where he was able to buy Walter Starkey's famous Diamond Bar outfit. Just northwest of Kingman, Arizona, on which Tap ran around 2,000 head of cattle. This venture prospered and he was able to acquire several other ranches in later years.
His holding were still large when he was run over and killed at age 75 by an automobile in Kingman on November 19, 1944. After Tap's death his daughters, known as "The Duncan Girls," continued to run the ranch.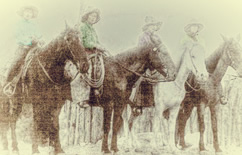 After Tap's passing, "The Duncan Girls," continued to run the ranch.

His wife, Ollie Ann, died some four years later, and the Diamond Bar was sold to Handerly of San Francisco, who still owns it. Only two of their children are still living - Mrs. James Ray of Kingman, and Byron Duncan, a cattleman at Imlay, Nevada, One of Byron's proudest possessions, incidentally, is the old, heavy, Sharp's rife which was given to his father as a part of his gear on his early trail herd ride from San Saba to New Mexico. Dale Smith, Cowboy Hall of Fame, owned the Ranch till 2002 when Nigel Turner, "The English Cowboy," acquired it. Tap Duncan, Master Gunfighter Turned Rancher! Before Tap Duncan became a cattle baron with his 1,450,000 acre Diamond Bar ranch, he sometimes rode with the outlaw Kid Curry, and the Hole in Wall Gang, which consisted of the likes of Butch Cassidy and the Sundance Kid. To them, Tap was known as the last two-gun man in Mohave County. Old-timer Les Ruston summed up Tap's reputation when he said, "he was the best gunslinger in the state of Arizona. If you monkeyed with him, you were monkeying with a rattlesnake, I've seen him tried out several times."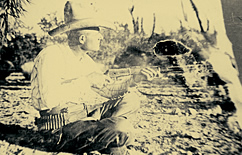 Tap was revered as the best gunslinger in the state of Arizona.

Part of the gang, led by Curry, was caught by a posse after a failed train robbery in Parachute, Colorado. A shootout took place. and more than 200 shots were exchanged. Kid was shot in the arm and both lungs, with the bullet leaving through his other arm. Kid new it was his last moments, so held off the posse so his accomplices could get away. He then took his own life with his Colt .45 on June 9, 1904. The posse wasn't sure whose body they had and Tap Duncan was seen in Green River, Utah at the time, so they thought it might be him. The body was taken to Glenwood Springs, Colorado where the coroner looked at it. After examination they were sure it was Kid Curry, and not Tap Duncan. But since the railroad did not want to pay the $30,000 reward the body has been labeled to this day as Tap Duncan. Louis L'Amour, the prolific writer of Western sagas, once admitted that Tap Duncan taught him everything he knew about "cowboying." The late Dick Waters, longtime Kingman, Arizona resident and respected newspaper-man, always enjoyed telling this tale about Tap and his cowboys: "After they had driven a herd of cattle to the railhead in Hackberry, Tap and his men went into a saloon and got into a game of billiards.
But after a game or two, Tap got bored with the pace, pulled his six-shooter, and started shooting the balls into the pockets." No doubt, the game speeded up quite a bit.
Ironically, after surviving numerous "close scrapes" and living a long and exciting life, Tap Duncan was struck down by an automobile at the age of 75 while taking a leisurely stroll in downtown Kingman. Mojave County Miner Newspaper, November 23, 1944 Death came to one of Mohave county's best known and most widely respected pioneer cattlemen last Saturday evening when George T. "Tap" Duncan was accidentally killed when struck by an automobile on the railroad crossing at Fourth street.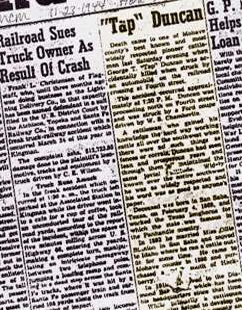 The Mojave County Miner, November 19, 1944.

The accident occurred approximately at 7:30 p.m. Duncan was proceeding north on Fourth Street and was struck by a Ford coupe driven by W.S. Chamberlin. A cattleman who gained his knowledge the hard way working cattle all over the southwest when there were no such things as fences or corrals. Duncan had seen lean and prosperous years and through them maintained the same jovial attitude. Widely known over the entire southwest he was as widely respected and his word was as good as anyone's paper. Deceased was born in San Saba Texas, on February 4, 1869, and worked the Texas longhorns for which the state was famous in the Panhandle country. In 1892 he married Miss Ollie Bimmon in San Saba and moved to Idaho where he ran a cattle outfit for some time. He came to Mohave country in 1898 and purchased a ranch south of Hackberry. In 1910 he moved to the Diamond Bar Ranch which has been headquarters since that time. While primarily a cattleman, Duncan also helped to develop the mining industry in the county and financed several mining interests. Chief of which was the King Tut mine. In addition to his wife, he is survived by two sons, Charles and Byron, and by one daughter, Mrs. J.M. Ray, all of Kingman. His youngest daughter, Mrs. Laura McCoy, died in 1928. He also has ten grandchildren and six great grandchildren surviving.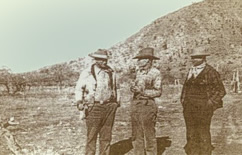 Left to right: John Neal, Tap Duncan, Harrie Avery surveying the Ranch, circa 1935.
Click for 1888 Rules of the Ranch >>