Grand Canyon Western Adventure
We are pleased to announce that following the closure of our property due to the Covid 19 virus that as a result of the lifting of restrictions and procedures that we have put in place to ensure the health and safety of our guests and employees and the cleanliness and hygiene of our premises that we are re-opening our facility effective 21st June 2020. Please note that all guests and employees will be required to take a non-contact temperature test before entering our premises. We look forward to welcoming you soon. Thank you!


---

Traveler Cancellations and Refunds: since the initial spread of COVID-19 in China, our Reservations team has been proactively reaching out to impacted travelers and guests to assist with cancellations and refunds. To fully support our travelers and guests during this very difficult time, we will honor all requests for cancellations, including all-sales-final and cancellations within 24 hours


---

Once owned by a notorious 19th-century gunfighter, this Old West-style resort on a secluded cattle ranch is 10 miles from the rim of the Grand Canyon, 2 hours from Las Vegas, and 35 miles from Route 93.

Featuring cowboy-themed decor such as wagon wheels and saddles, the custom-built pine cabins sleep 2 to 5 guests, and have porches, fireplaces or wood-burning stoves, and en suite bathrooms with showers or antique claw-foot tubs. Some cabins add loft bedrooms. Linens are provided.

The Ranch also offers Glamping Tents, a fusion of glamour and camping, for those who want to experience camping without the hassles. The tents are fully furnished in western style decor.

The Ranch also offers a Cowboy Campout for those who wish to saddle up a horse, and join the old tradition of the American cowboy on a guided overnight Campout.

Nightly campfires offer live music. There's also a rustic restaurant and fully licensed bar. Guided horseback treks, wagon rides, a western gun range, and helicopter tours of the Grand Canyon are extra.
Authentic Western-style Meals Served in the Historic Ranch House
Enjoy authentic western home-style cooking served in our Historic Ranch House. Sit back and relax while surrounded by the glow of an open fire and candlit tables and the charm of old-fashioned hospitality

After your meal you can sit back, relax and enjoy Live Cowboy Entertainment in our famous "Diamond Bar" serving beer, wine and all your favorite cocktails.
Learn More
Day and Night You will be Entertained by our Professional Western Musicians
Nightly you can snuggle around a blazing log fire with millions of stars above, the back drop of Spirit Mountain while listening to the songs that helped make the West famous
Learn More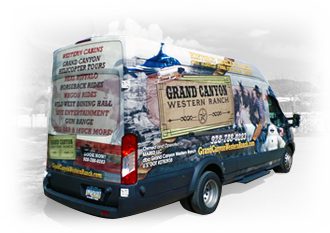 We Offer
Transportation from the Las Vegas Strip!
Both day and overnight trips which can incorporate our horseback, helicopter tours, gun range, or many other activities
Learn More
Guest Testimonials
"Great for the whole family" Our family of my husband, myself and my 2 teenage boys spent 2 nights at the Grand Canyon Ranch and everyone had a great time. The evening horseback ride was a lot of fun. My son also had the opportunity to play the guitar with Casey during the campfire which made the trip worthwhile. The staff is incredibly hospitable and want you to have a good time. The ranch is reminiscent of vacations I would take as a child where you got time to spend with each other and not everyone going off in different directions and doing their own thing. We left with memories to last a lifetime. My kids still talk about it."
- Trish L from Trip Advisor
"We spent a fantastic September evening at the Ranch. Tex and Cowboy Dave made our stay very memorable. I had not been on a horse for 35 years but it was a blast. The dinner and campfire events will live with me forever. Long live the Diamond Bar (as it should really be known as) If you want to get an idea of how it felt to ride in the wilderness go on the sunset ride. Brilliant."
- Doug Jaap
Sign up for FREE and receive information on specials, contests and area events.