Corriente Cattle
Cattle
Grand Canyon Ranch Resort raises Corriente cattle, which are free to roam over 165 sq. mi. of desert and mountain terrain. The Corrientes are raised not for beef, but for roping on the professional rodeo circuit. The hardy Corriente were the original cattle brought to the New World by the Spaniards as early as 1493, chosen for the trip because they were a hardy breed able to withstand the rigors of an ocean crossing, and to adapt to a wide range of climates. In the early 1800's Europeans brought over other breeds of beef cattle, and the near-pure descendants of the original Spanish cattle nearly disappeared. With the increase in popularity of professional rodeos, the Corriente became the cowboy's choice for steer roping. The animal is ideal for the task, sporting big horns and a lean fast body – a challenge to any cowboy. The Ranch is dedicated to preserving these cattle as a specific breed.
Why Cattle Branding?
For centuries, cattle brands have been used for identifying cattle in nearly all countries and civilizations. Cattle branding scenes can be seen on Egyptian Tomb walls dating back as far as 2000 B.C.! To prevent theft in the early western U.S., livestock being driven cross-country were required to be "road branded," the brands painted on with pine tar or paint. Later, when the vast trail herds of cattle were driven north to market, hot iron brands were used. There were two types of branding iron, the "stamp iron," which included the full brand; and the so-called "running iron," which had a hooked tip that could be used to change or make any brand. The running iron became a favorite tool of cattle rustlers, which meant if you were caught with one in your possession by a vigilante group, you might end your days swinging from a rope: death by hanging if the law wasn't around!
Eventually brands in the Old West became more than a means of identifying cattle. They became the "heraldry of the range." Burned into a cow's hide, a brand identified the animal's owner – a necessary task in open range land where several different "outfits" ran their cattle together. But the brand signified even more – it came to stand for the outfit itself: the ranch, its owners, workers, and traditions. Brands were used in many places – on vehicles, table china, pressed into the damp cement of the ranch house porch, and as embellishments to gates, doors and the like.
Brands also provided mental exercise for ranch folk – a kind of rebus game American cowboys came up with to test your mental agility at "reading" brands. Thus a "bar," and "J" is the "J Bar" brand. "BQ" becomes the "barbecue" sign, and so forth. A favorite sport of many cowboys was to argue over the correct reading of a particular brand. Disagreements sometimes arose, and six shooters reached for... but that's a whole other story, buckaroo!
Notice Grand Canyon Ranch's distinctive brand. It was created by Nigel Turner from the old Diamond Bar brand, and incorporates the shape of a helicopter. No one will steal our cattle!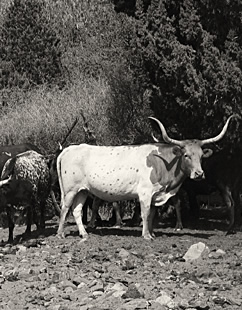 Grand Canyon Ranch raises Corriente cattle, which are free to roam over 165 sq. mi. of desert and mountain terrain.