Lodging
The Ranch offers cowboy cabin experiences, Glamping Tents, and an Overnight Cowboy Camp Out.

All cabins feature comfortable beds, and single pullouts, fireplaces, air conditioning, full bathrooms with claw foot bathtub and shower. All the luxury pine cabins are named after previous owners, writers, poets, and horses that lived and worked at Grand Canyon Western Ranch over it's 120 year history.
Our Glamping Tents are a fusion of glamour and camping for those who want to experience camping without the hassles. Have more time to ride horses, experience a sunset wagon ride or eat in our Ranch House by having a fully furnished tent and for you. "Roughing it" has never been so luxurious. Just lay back and immerse yourself into your surroundings.
The Cowboy Camp Out is where you saddle up your horse and enjoy the centuries old traditions of the American cowboy as you step back in time on a guided overnight camp out, and enjoy a steak dinner cooked by your cowboy guide. A Wild West Adventure not to be missed.
Tractor, Pegasus, Kissdodon, L'Amour Pine Cabins sleep up to 4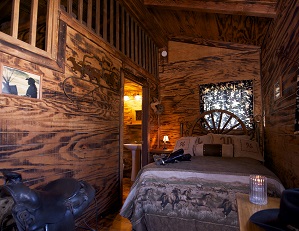 Max Occupancy: 4
These custom pine Cabins sleep 4 guest. These custom pine Cabins sit below Iron Mountain with spectacular view of Spirit Mountain. The main area includes a queen and double/twin bed, electric fireplaces heater and air conditioner in summer, side tables, numerous historical pictures and western artifacts. This cabin also includes a small loft area with a twin bed. The bathroom is fully equipped and has a historical claw foot bath tub and a handheld shower.