Experience Western rodeo demonstrations at the Historic Grand Canyon Western Ranch:
Relive the old west with real cowboys, their horses, cattle and legends.
See the rounding up the quarter horses, cutting demonstrations, steer roping, team roping and other exciting rodeo activities by Professional Wranglers from our Rodeo Arena viewing stands.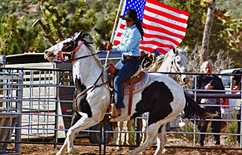 Step back in time to relive the "Old American West" at the Historic and Exclusive Grand Canyon Western Ranch.