"Rules of the Ranch" written by Ranch Manager Abner Taylor in the winter of 1888.
Rule No. 1: Whenever a person is engaged to work on the Ranch, the person so engaging him will fill out and sign a blank giving the name of the party employed, for what work, the amount of wages he is to receive, the date he will begin work, and deliver the same to the person employed, who must sign the counterpart of such contract.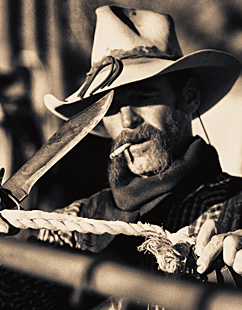 It is the aim of the owners of this ranch to conduct business of right and justice to everyone.
Rule No. 2: Employees discharged from or leaving the service of the company are expected to leave the ranch at once and will not be permitted to remain more than one night in camp.
Rule No. 3: Private horses of employees must not be kept at any of the camps, nor will they be allowed to be fed grain belonging to the company. No employee will be permitted to keep more than two private horses on the ranch. Rule No. 4: No employees shall be permitted to own any cattle or stock horses on the ranch. Rule No. 5: The abuse of horses, mules or cattle by any employee will not be tolerated and anyone who strikes his animal over the head, or spurs it in the shoulder shall be dismissed from company service. Rule No. 6: No employee or contractor is permitted to carry on or about his person or saddle bag any pistol, dirk, dagger, sling shot or bowie knife for the purpose of offense or defense. Guests will also comply with this rule. Rule No. 7: In case of fire it shall be the duty of every employee to go to it at once and use best endeavors to extinguish it, neglect to do so will be cause for dismissal.
Rule No. 8: Employees are strictly forbidden the use of vinous malt sprits or excessive intoxication during their time of service with the company.
Rule No. 9: Loafers, "sweaters" Men who sweated as a result of their great efforts to avoid work, deadbeats, tramps, gamblers or disreputable persons, must not be entertained at any camp, nor will employees be permitted to give, loan or sell such persons any grain or provisions of any kind, nor shall such persons be permitted to remain on the company's land anywhere under any pretext whatever. Rule No. 10: Any person not in the employment of the company shall not be permitted to hunt or kill game of any kind inside the ranch enclosure. All employees to ensure this rule is enforced. Rule No. 11: Employees of the company will not be allowed to hunt or kill game except when necessary for food. Rule No. 12: It is the aim of the owners of this ranch to conduct business of right and justice to everyone, and for it to be excelled by no other in the good behavior, sterling honesty and integrity and general high character of its employees and to this end is necessary that all the foregoing rules be adhered to and violation will be just cause for discharge.
Sterling honesty and integrity and general high character of employees was expected.
Rule No. 13: Every camp will be furnished a printed copy of these rules, which must be nailed in a conspicuous place in the camp. Each rule is hereby made and considered a condition and part of employment. Any employee that tear down or destroy such printed rules shall be discharged.
By order of the company, Abner Taylor, Manager January, 1888.